Cloud Managed Services is daily outsourcing of cloud-based services and technically supporting businesses to automate and enhance operations of client business.
A third party is hired by companies as the internal IT department generally does not always excel at professionally monitoring and maintaining a cloud environment.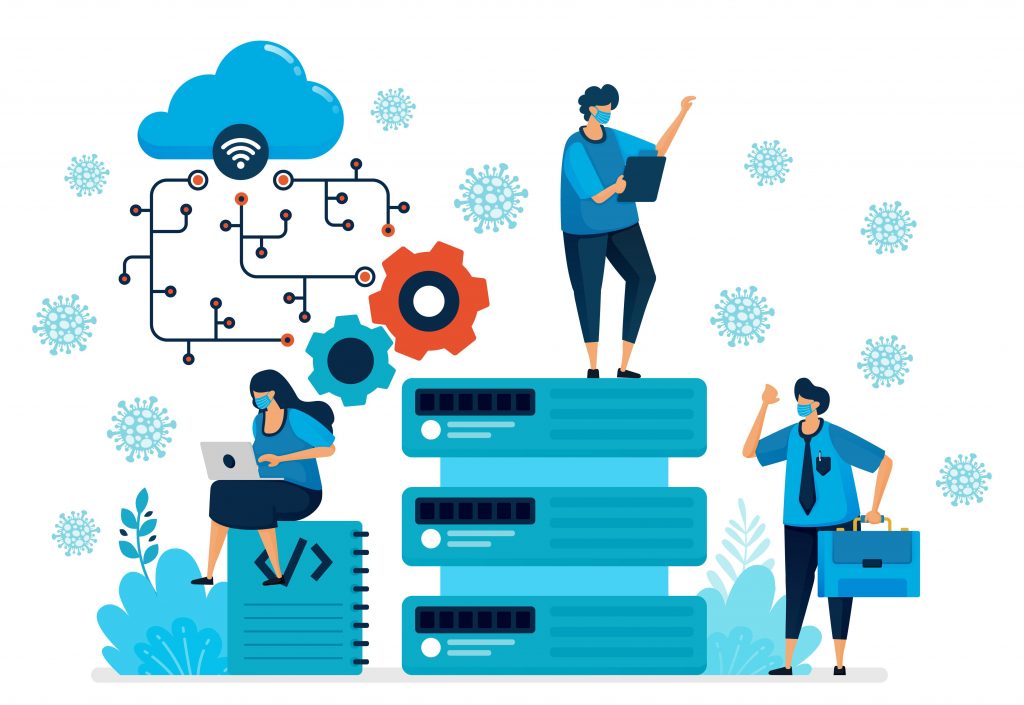 According to the requirements, MSP (Managed Service Providers) take care of monitoring and reporting, testing of performance, back-up, recovery and other facilities. If expenses are considered, a third party CMS provider is comparatively less expensive than recruiting a team of IT professionals at internal level for the job. 
A good MSP has DevOps specialists who help businesses in strategizing and planning their Cloud Roadmap, with the goal that the developers could collaborate better and deliver results quicker and better.
Why Cloud Managed Services?
An increase in adapting to cloud based services has given a boost to Cloud Management Service Providers (MSPs). Effective management should and must be the top priority in this ever developing market, Thus, companies are shifting to cloud managed services due to the security and flexibility that comes with it. Some companies hire personnel to manage it internally but the professional third party service providers ace the race with their experience and skill set.
Remember, bad strategies can result in-
1.Security Risk
2.Operational Risk
3.Less Value
Merits/Benefits of Cloud Managed Services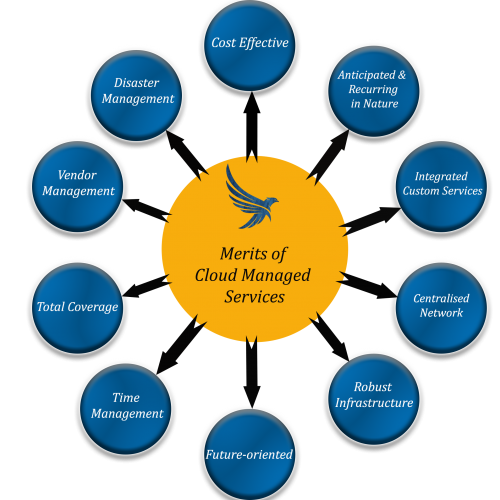 1. Cost Effective – Cloud Managed Services (CMS) outsourcing helps a company by reducing their network maintenance cost fairly. Recruiting a permanent or full-time IT department for the job is unnecessary and expensive. This is where MSPs come in and makes it easier for small and medium-sized companies to operate successfully.
2. Anticipated and Recurring in Nature – The Companies have full control on how much finance they want to spend on IT services and thus they can chalk it out on that basis. Just like a Tax Service has more work and customers during the first quarter of the taxation seasoning and thus they need more support during that period compared to the following quarters. Whereas, a Private Institute that provides online coaching on weekends will require support during the weekend when their students will be attending classes online. MSPs provide services according to their client's needs and demands and make it easy and affordable for their client companies to run the business.
3. Integrated Custom Services – Flexibility is a key feature that Cloud Management Service Providers offer; some even offer pay-per-job or payment plans to their trusted clients in order to help them engage funds in their business operations effectively. Some MSPs offer converged solutions including security protection, monitoring of network, etc. That helps companies to put a leash on expenses and have better control at the same time.
4. Centralised Network – A Central Data Center is used by MSPs to manage all applications and servers via a Managed Cloud Network.
Employee production increases due to an increase in network availability. Centralized data can be accessed by remote network users within the network including virtual services. Storage and Back-up can be built into it.
5. Robust Infrastructure – Most of the Cloud MSPs have a robust infrastructure to offer their clients at all hours of the day. On the basis of the service agreement, a MSP can scan and monitor the network for patch requirements as necessary. Managed Service Providers can also improve working business practices and policies to manage the network to coincide with client's requirements.
6. Future-oriented – Shifting to Cloud environment is securing future stability of the data center. Followed by including the latest technological upgrade to the data center.
Hiring trained third parties for the job also saves time and resources that is required to train in-house IT departments.
7. Time Management – As MSPs are trained professionals, the clients receive the best of services as fast as possible, which saves time. Quick response and enterprise-level monitoring and remote cloud services ensures speedy completion of work. Most MSPs can remotely monitor and repair issues in a short time. In case of an issue requiring physical checking, technicians are dispatched right away.
8. Total Coverage – Service levels, performance and maintenance are controlled better by Managed Service Providers. Service continuity is achieved by a comprehensive service-level agreement. If MSPs are dealing with a client for a long time, they tend to know the network better and thus they succeed in offering better and quick services.
9. Vendor Management – If and when vendor-oriented issues arise, Managed Service Providers can take care of the matter and resolve it in record time by contacting the vendor party.
10. Disaster Management – Managed Service Providers thrive on the services they provide and thus they make sure to provide quality service to their clients. With Cloud Managed Services, there is no risk of losing data if a disaster takes place. The MSPs secure the data and make sure that their client operates regular business with as little downtime as possible.
Cloudstorks is a cloud managed service provider company located in Gurugram, India. With our cloud management services and solutions, we deliver the software faster no matter how complex your project or what technologies and platform you are using. Read more…